Last time,
Anna Marie met a cute redheaded guy named Jeff. She got pregnant and went through a relatively easy pregnancy. When we last left her, she was in labour.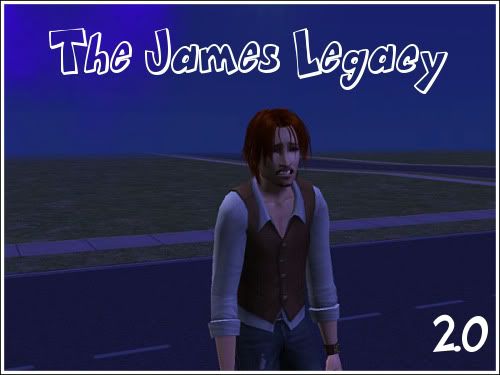 Warnings: 68 pictures, swearing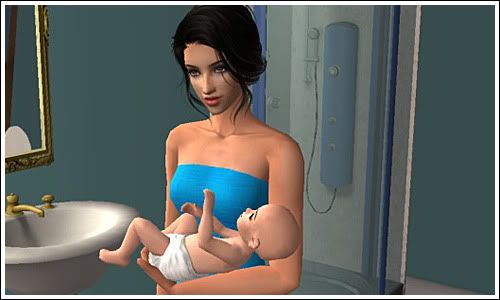 Yay! Baby! It's a boy, and his name is Devon. He has black hair like his mommy and gorgeous brown eyes like his daddy.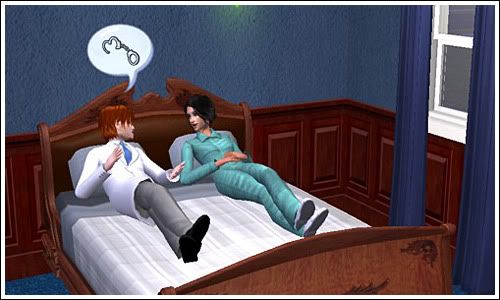 Jeff:
Sooo...I was thinking about that handcuff thing...
Anna Marie:
*pounce*
I have to wonder just what she's so shocked by.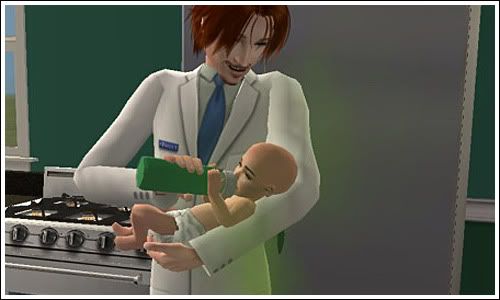 If a baby is surrounded by green gaseous fumes, chances are, feeding the baby will not fix the problem.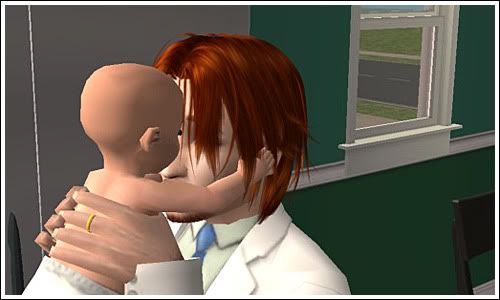 Okay, that's really cute, though.
That chick in the lab coat? Her name is McBitch. Not only did she constantly pick fights with Anna Marie, she was all over Jeff.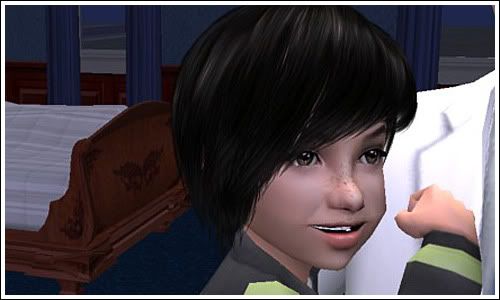 ldksjlhgksjlfkjslkjskljglkjs I love cute toddlers so much.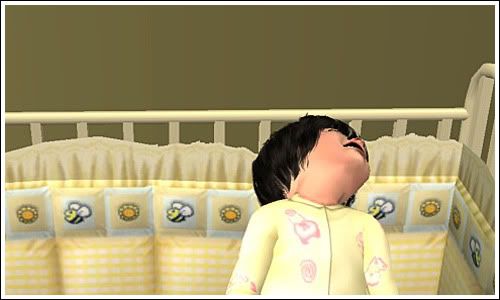 Okay, I take that back.
OKAY NO I DON'T I LOVE THEM <3
Devon:
Hiiiigh...chair.
Jeff:
Oh em gee YAY!
Potty training gets stuck on mom.
I finally managed to get them all asleep at the same damn time.
But, then Devon needed to pee.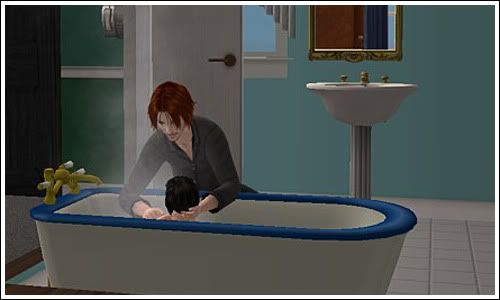 Jeff, unlike a lot of non-family sims, will actually spend time with his son willingly.
But Anna Marie still takes the cute parenting cake.
Jeff has had a fascination with this telescope from the very beginning, so this was sort of his own fault.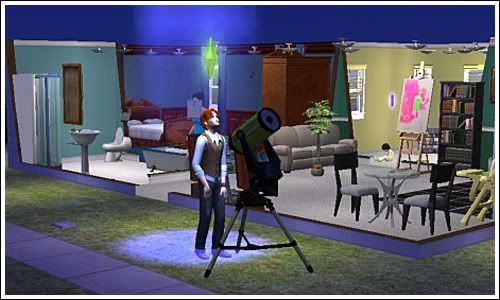 Jeff:
....Woah, bright light.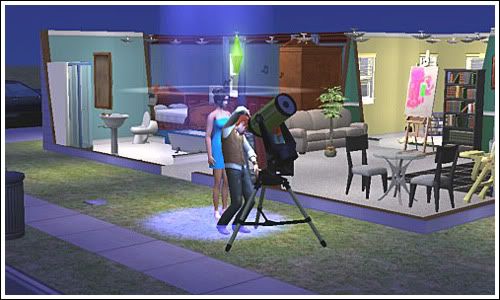 Aliens:
YOU WILL COPULATE COOPERATIVELY!
Jeff:
Aaaaagh!
Jeff:
Nooooooooooooooooooooooooooooooooo....
Your husband just got abducted by aliens so that they could have buttsecks with him and impregnate him? Bubbles.
But, she still has Devon!
Her feelings on being alone with a toddler are mixed.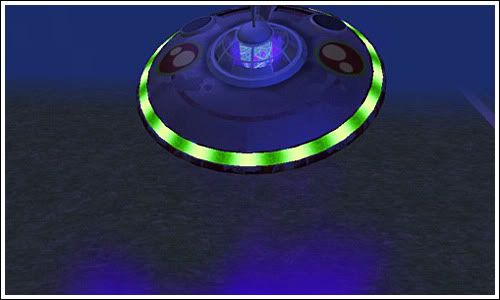 I want that spaceship. Seriously.
This is an appropriate reaction to having your husband home.
This? Not.
Finally. I find potty training the hardest toddler skill.
And, it's time for a birthday!
They sing their song a son. I mean, son their sing a song. No, wait...oh, nevermind.
I love this picture because Anna Marie looks so in love with her dorky husband.
Ready, and....
YAY!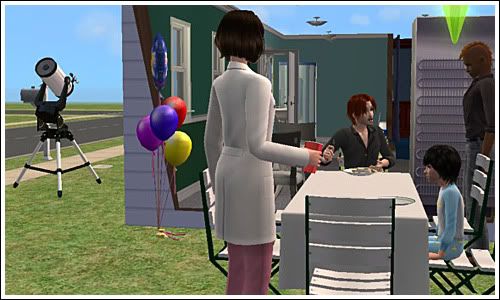 Oh, look, McBitch is there.
He got a makeover, as most of my kids do. ...That sounds wrong.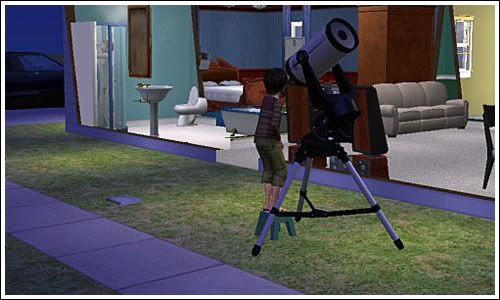 And, like the rest of his family, he has a deeply unhealthy obsession with space.
Anna Marie just likes to dance. A lot.
This is Devon's new room. I love the bunk beds.
Uh...she's a little old for you, Dev.
Stalker mom, much? She stared at him playing for like, hours.
But when it's time for his first day of school...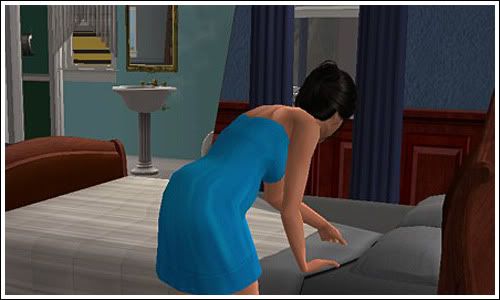 She's just making the bed.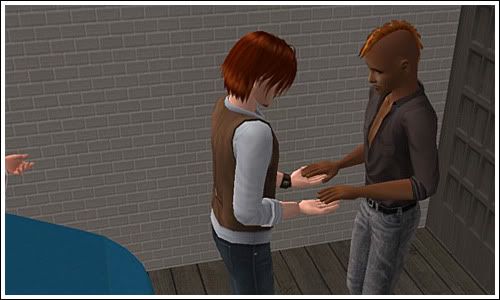 Jeff goes out to
find future mates for Devon
make friends.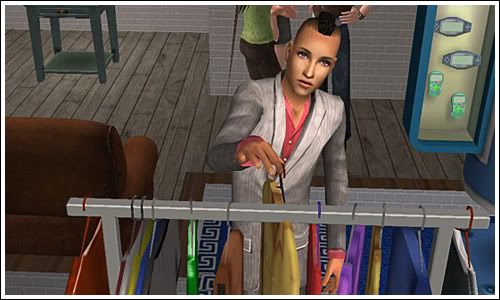 Mostly, there's very pretty guys with mohawks.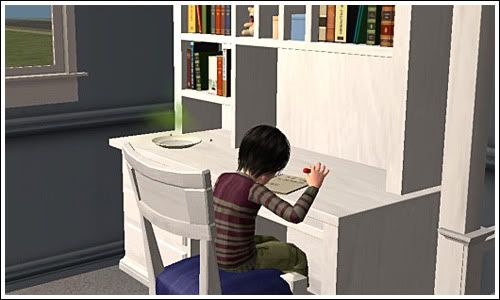 Devon has no idea what his father is up to, and is mostly focused on doing his homework.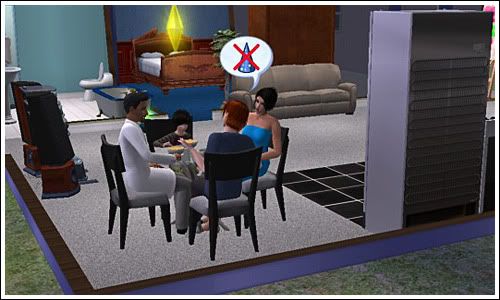 Okay, so this guy keeps coming home from work with Anna Marie. And this time, he just sat down to dinner with them. o_O Creepy, dude.
Devon really loves his toy box.
More than this dude.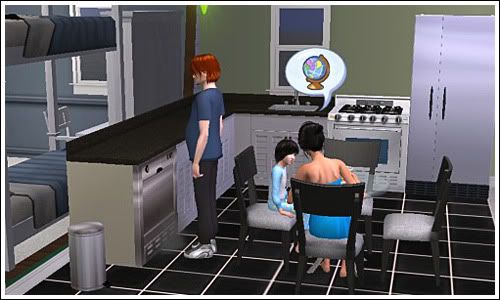 Anna Marie:
When I was your age, I wanted to travel the world.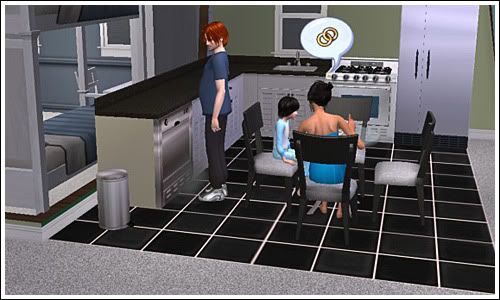 Anna Marie:
But then, I gave up my dreams and got married instead.
Jeff has an insane mechanical score, so he fixes everything in the house. I never need to call a repairman.
Fixing things apparently...induces labour.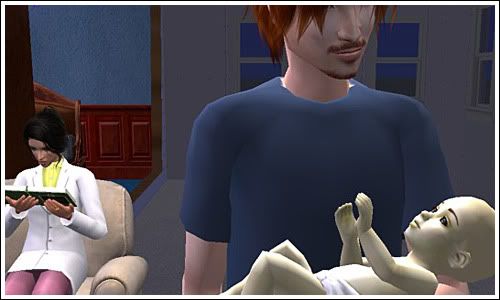 Alien child! Light green skin, brown hair. She's a girl, and her name is Charlotte, which was a requested name that I looooove <3
After the baby came, Anna Marie and Jeff got some time alone.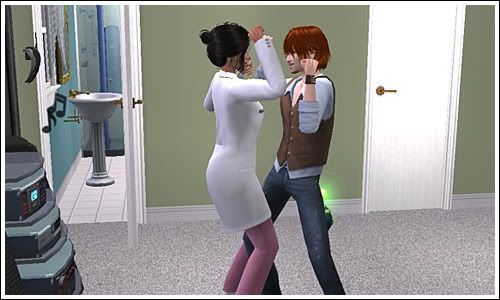 They dance a lot, per Anna Marie's choice.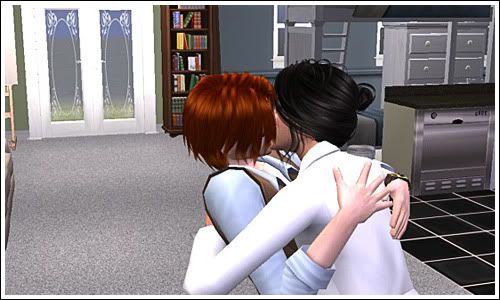 And makeout.
Anna Marie doesn't care that this child is the result of alien abduction. It's a BABY.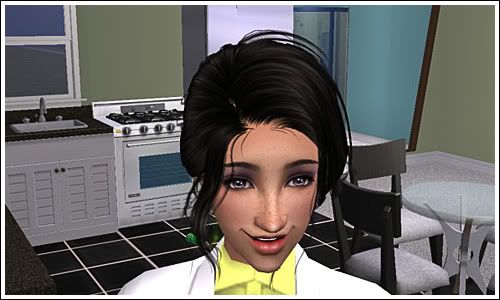 This makes her SO VERY HAPPY. Also, a good look at the better freckles I'm trying out.
Devon and his one true love.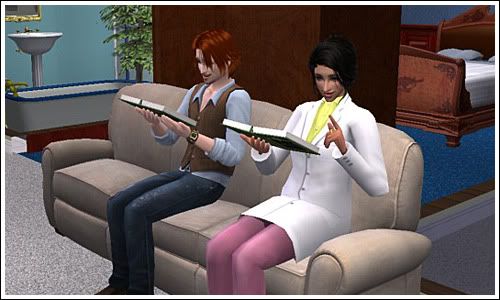 And theirs.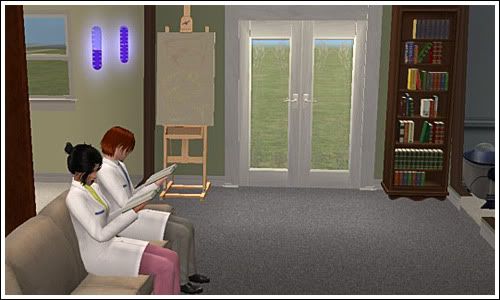 No, seriously. They did this all night.
And all day.
Devon:
Mom, Dad, I know I'm standing in a newspaper and I'm not sure how that's possible but I got an A+ look look look!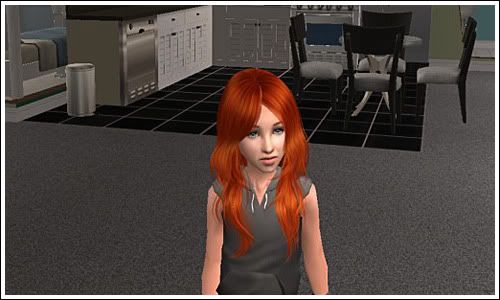 This gorgeous little girl came over, and I figured she might make a good spouse for Devon.
So I grew her up, and...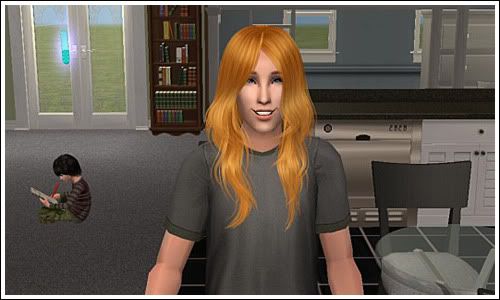 THAT IS NOT AN OVARY PERSON THAT IS A TESTICLE PERSON.
Dammit, if only I had a girl heir this round.
Devon just wishes his mom wouldn't lecture him when the cool kid is standing RIGHT THERE.
But there are hugs to make up with it.
And Jeff bonds with his little alien girl. <3
Next Up:
Alien toddlers!
Teenagers!
Dating!
Possibly college and other drama!
I have a big huge list of names to use, but, any requested names (either in the comments or the poll) get bolded, so I use them first! Request some names!