Last time,
Elena played the piano constantly, but grew up hot, so it was okay. There were lots of kids.
Warnings: TOO MANY CHILDREN OMG, serious favouritism, everyone passes out, hot wet naked guy torso...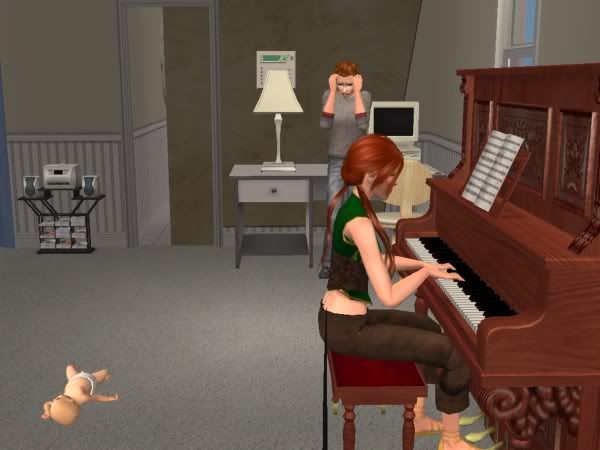 Still a fully functional, healthy family, as you can see.
And, surprisingly enough, Elena rolled romance. So, it's time for her to get a date.
Elena:
You…get me…date?
Matchmaker:
*smile smile* Sure honey. This is going to be a long day.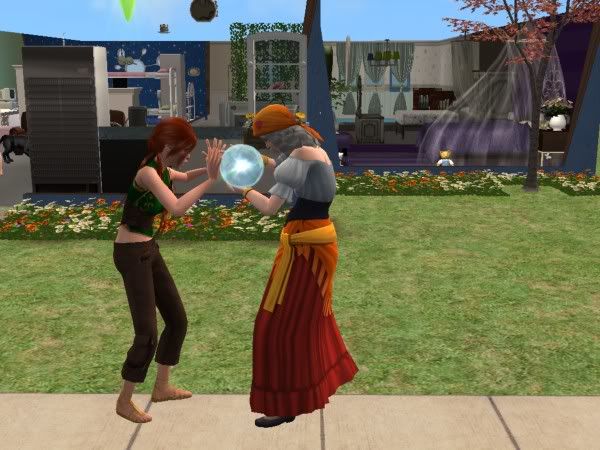 *Twilight Zone Theme*
No. Why? She's not blinking. Her eyes are just like that.
Let's try again.
Pretty, but way too old for you, El. Sorry.
Xavier
: I'm going to be just as good as Elena!
Good luck on that, kid.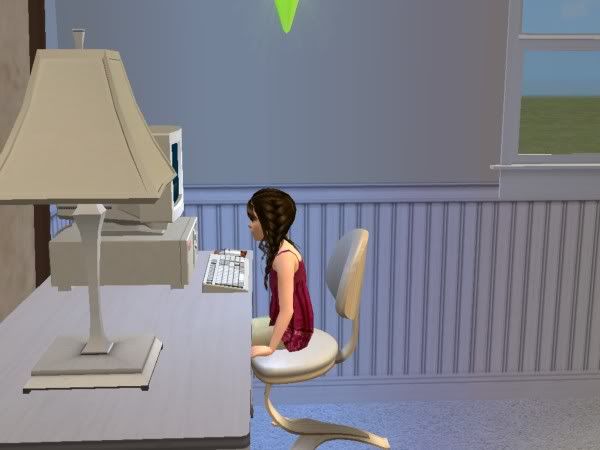 Mia, however, is still a geek.
Best Daddy Ever
Yeah. No.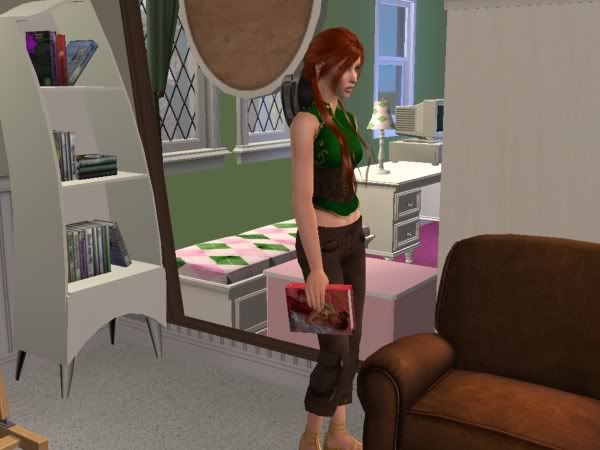 Apparently Harlequin novels are the reading material of choice. *headdesk*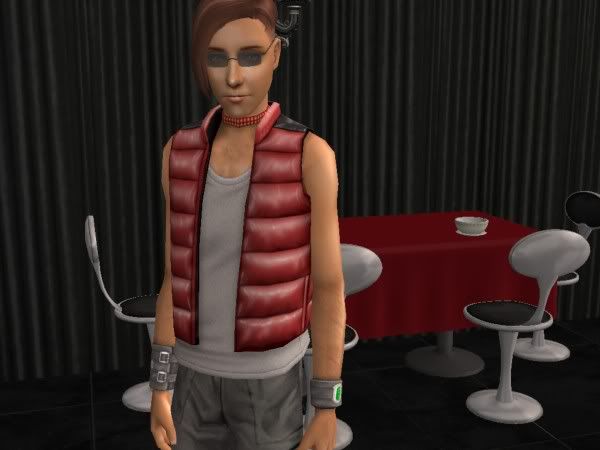 So, we go to town and meet Hemat here. He'll do.
Smustle tiem!
Awwwww
Elena:
I like chocolate banana milkshakes!
Hemat:
Oh ew.
But she's hot, so it's okay.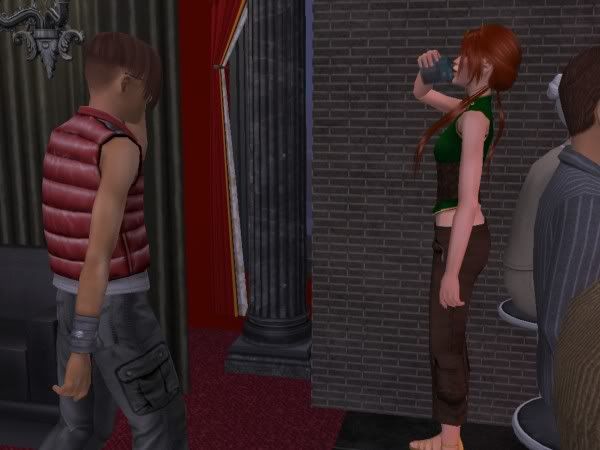 Aren't you a little young to be drinking, Missy?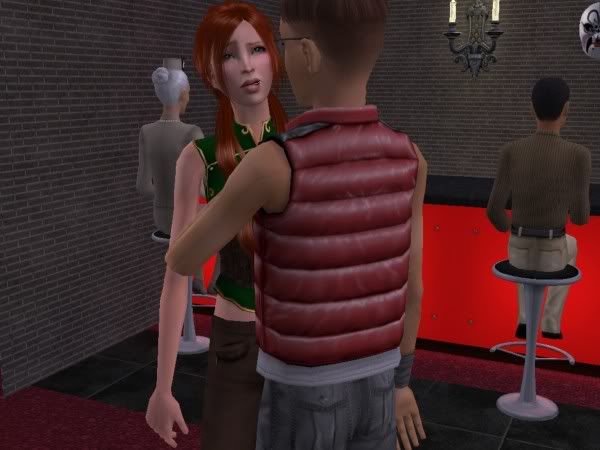 Elena:
Shwuddap. I'm fwine.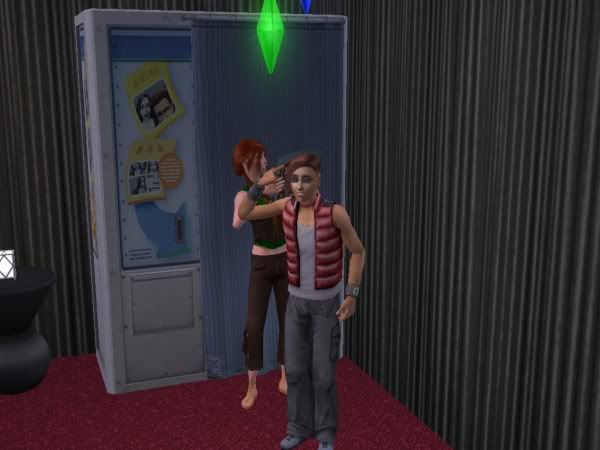 Hemat:
She's insane!
You're
just
figuring this out?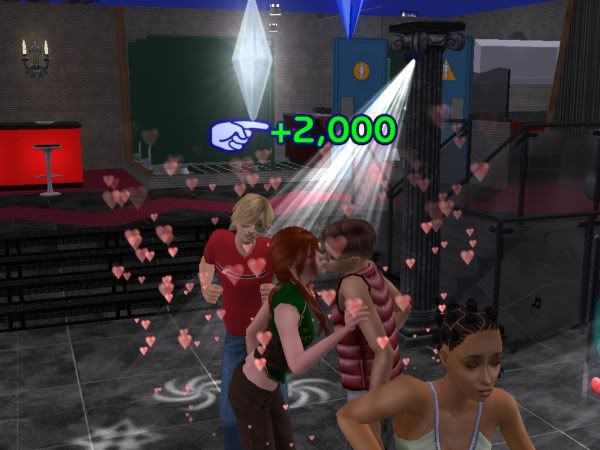 Elena, are you a virgin?
Elena:
I will hurt you.
Just don't get pregnant, kay?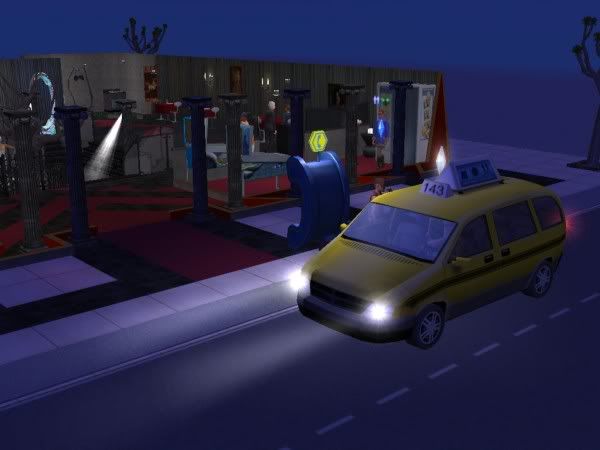 She takes him home! Ooh la la!
Vat is dis?
You do realize that is your parents' bed, right?
Elena:
La la la, I'm not listening!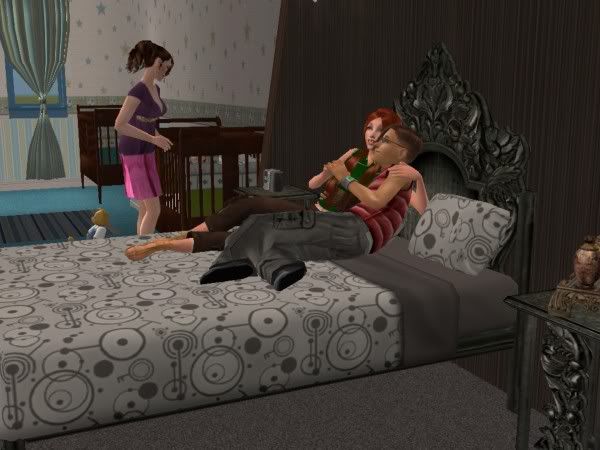 YOUR PARENTS' BED!
Elena:
Still not listening!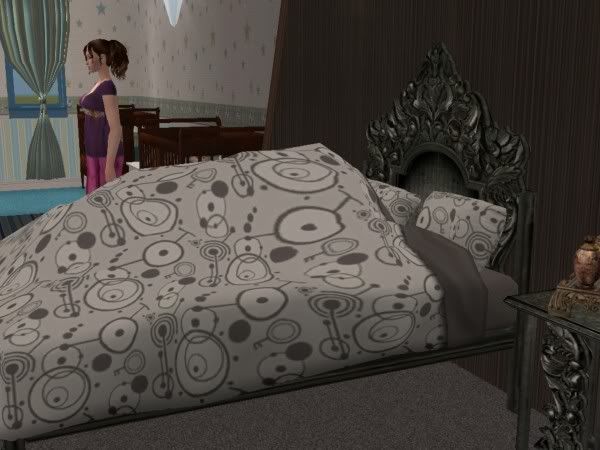 *headdesk repeatedly*
YOUR PARENTS! THEY'LL- …shit.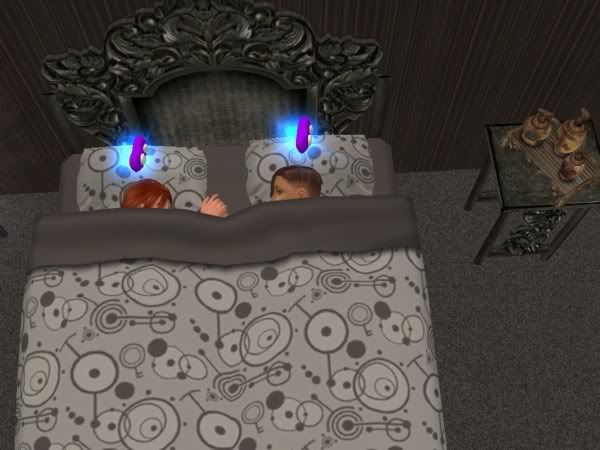 They don't care, though.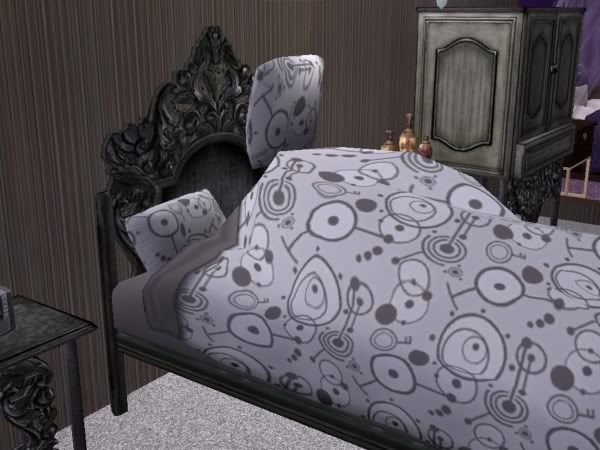 *headdesk repeatedly* What, have you turned into rabbits?
She lets him sleep in the bed. Elena, I am starting to think I overestimated your intelligence.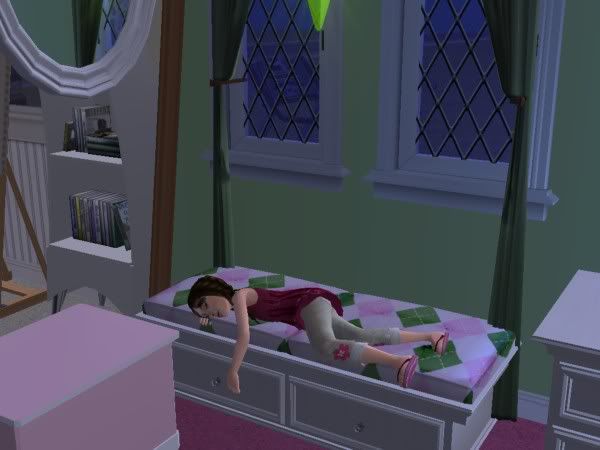 Mia, have you been drinking too?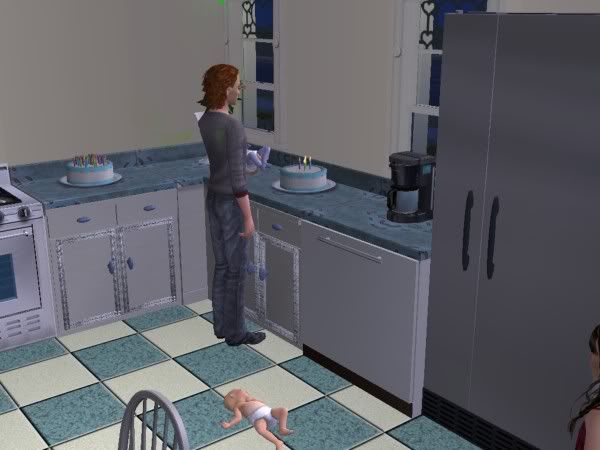 Oooh, it's time for Ryo to grow up!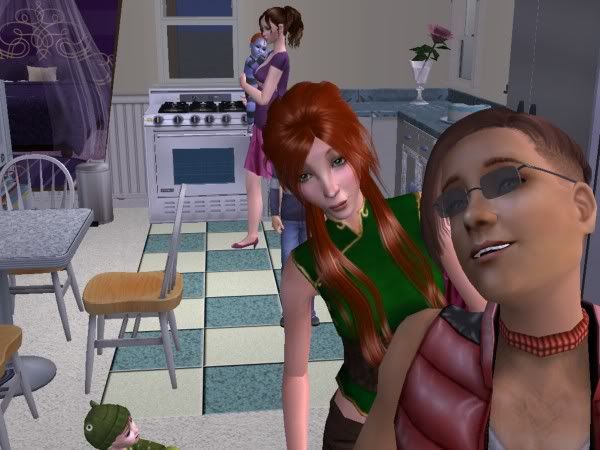 Guess who's been stealing her little sister's alcohol again?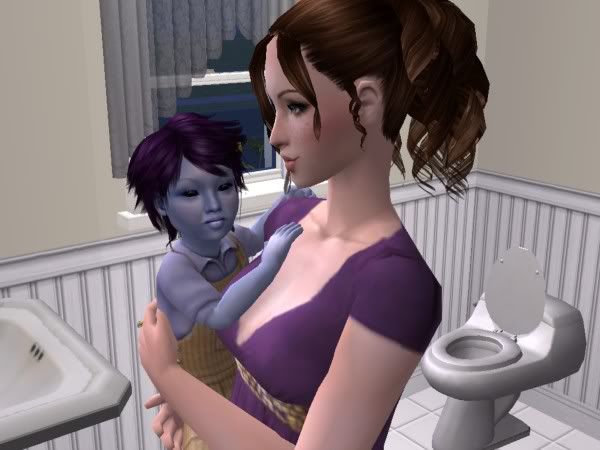 OMG SO CUTE
EXCUSE ME I'M HAVING A SQUEE MOMENT
Hemat:
Ack…I…El…Can't…Breathe…Argh…
Demon Girlfriend Elena:
Oh, shut up, you're fine.
Tough love.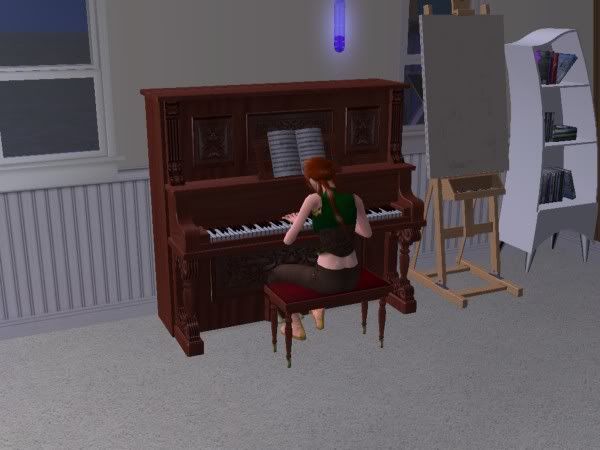 *headdesk*
And he comes by and leaves roses for her! Omg! So sweet!
She's breast feeding here. I'm hoping it will make the children more intelligent.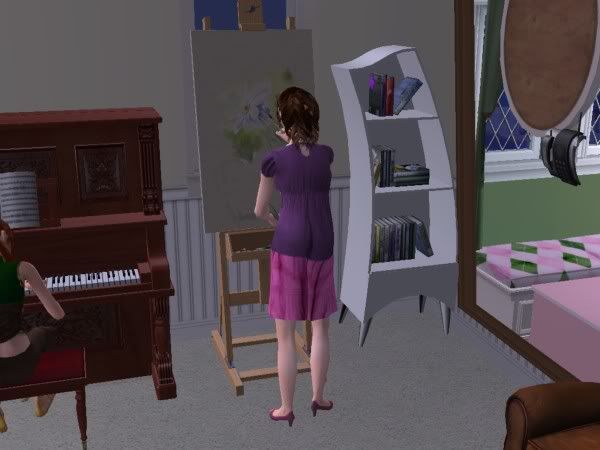 See, they can get along.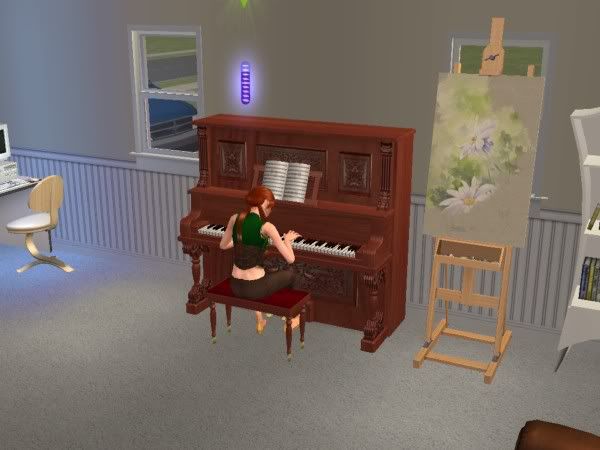 All Day, Everyday. Except when she's having sex with her boyfriend.
She discovers the roses, and is appropriately…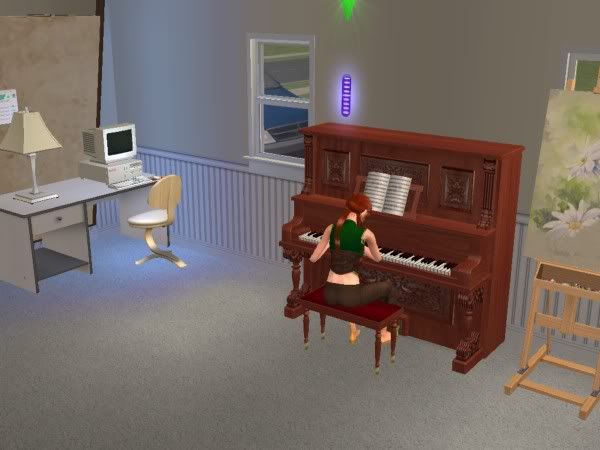 Unmoved. *headdesk*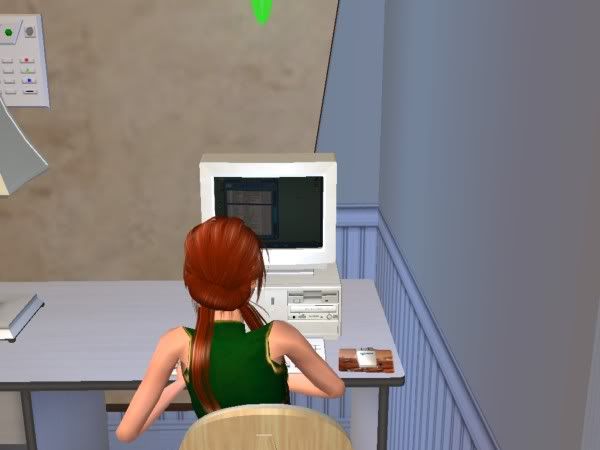 She got a scholarship (her creativity was completely full), and ordered groceries for her family.
And then it was time to go off to college!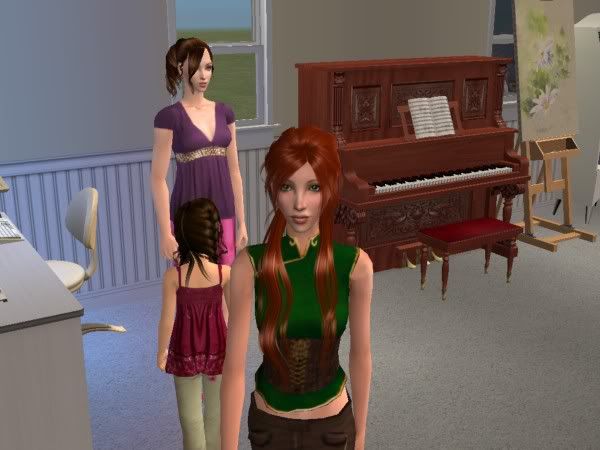 One last shot of how gorgeous she is.
Daniel:
WAIT!
Daniel:
I love you! Have fun! Don't get too drunk and use protection! Study hard! Remember to eat between practice sessions! Goodby-
Aaaaaaand she's gone. But I'm left loving how good of a Dad Daniel is…AGAIN.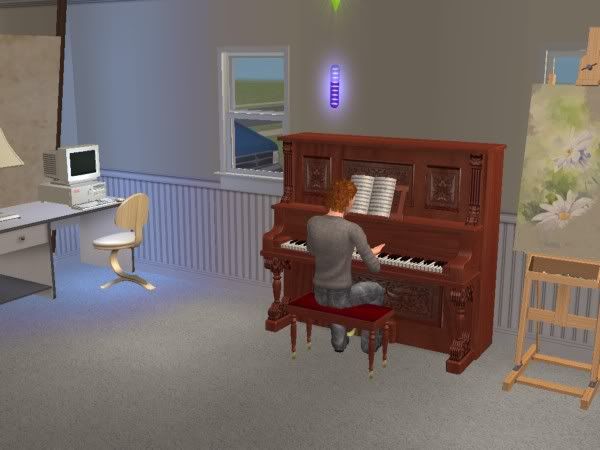 Daniel:
*plays the piano in her memory like she died or something*
Mia:
Oh, good, she's off the computer.
Xavier:
*stole Mia's alcohol when she wasn't looking*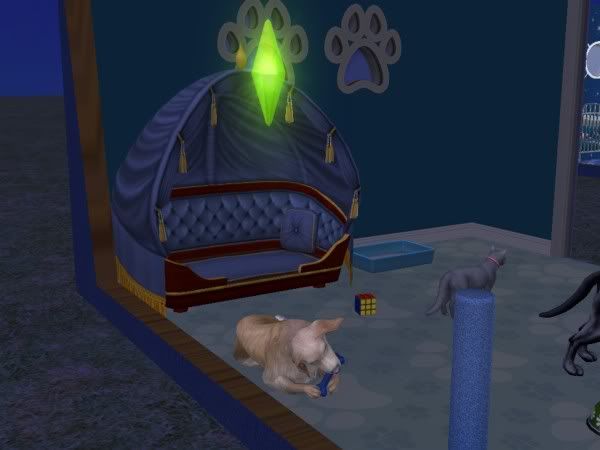 It haz a flavour.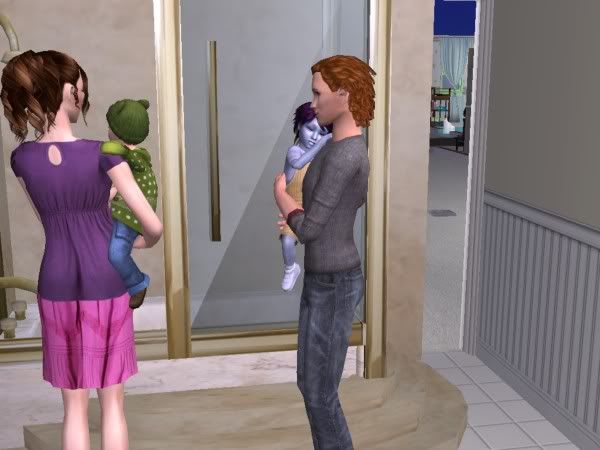 They both wanted to bathe their children. At the same time. So they just stood there and stared at each other while the kids fell asleep. *headdesk*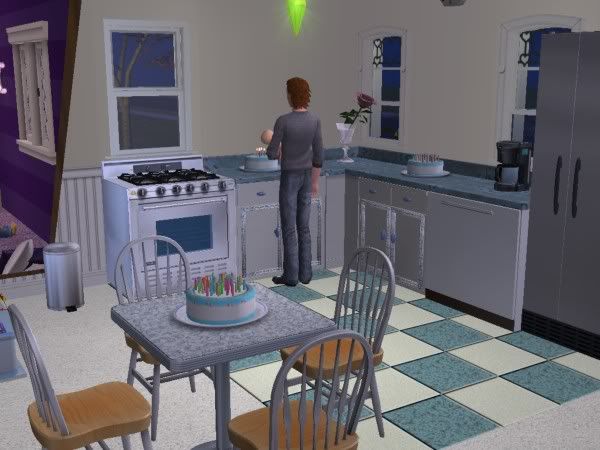 Birthday Tiem. That's one of the twin babies.
He's kinda cute.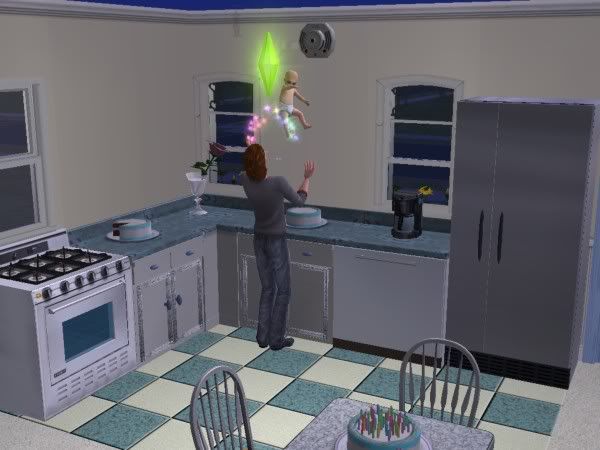 That's the other one. (Their names are Jacob and Timothy but I can't tell the difference between them.)
Yay confetti!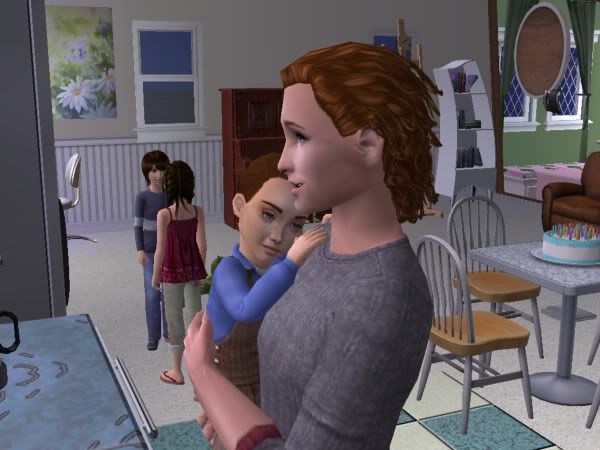 He's cute too. Kinda dorky looking, but he'll grow into it.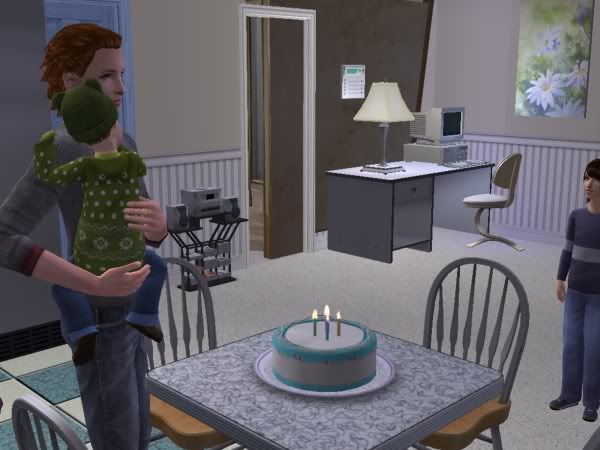 Alexander (the cute little Justin Timberlake, remember?) growing up.
OMFG.
Gadget:
Nom nom nom.
The cake is a lie, you know.
Gadget:
BLASPHEMY!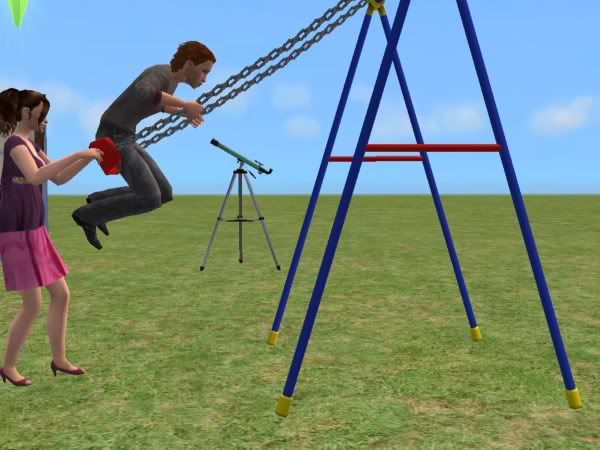 That was supposed to be for the kids, but okay.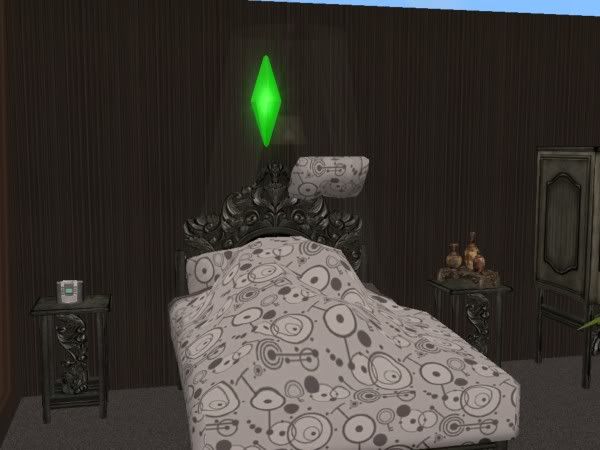 Please don't be pregnant again.
Alexander:
So, Dad, I think it's time you tell me how babies are made.
Daniel:
DEAR GOD NO!
Alexander:
I'm an astronaut!
Okay kid, you're my new favourite.
Ryo:
No…I'M the astronaut!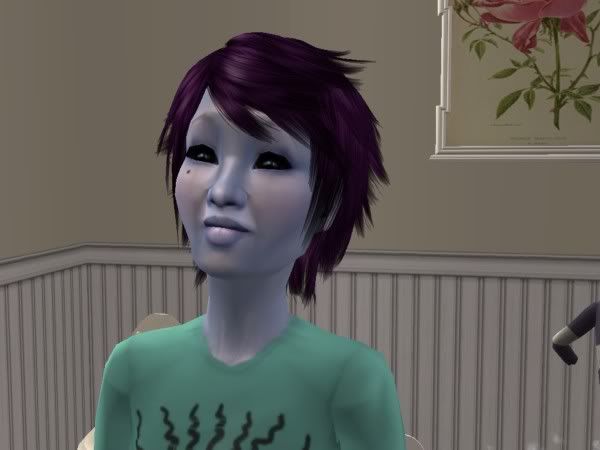 Ryo:
Heh. I'm so cool.
Yeah, you are. But you can't be heir. Sorry dude.
Yes, R2D2 is a FUCKING TV. I WANT ONE.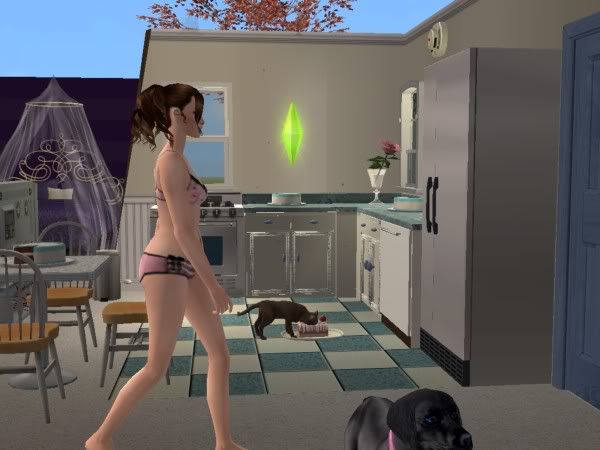 Gadget, what did I tell you about the cake being a lie?
Gadget:
Shun the non-believer. Shunnnnnnnnnnnn.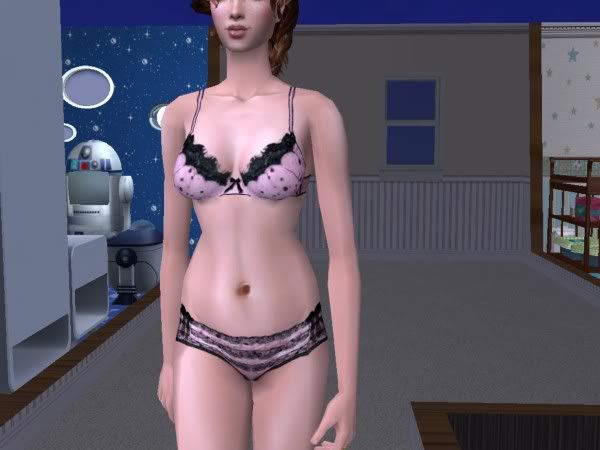 Sims says she's fat. Seriously. This is "fat". Meanwhile the guys get pot bellies if they're fat. Whut?
Kill it. Kill it with fire.
Alexander before.
Alexander after. (I really wanted to try the new makeup I found. >.> Don't look at me like that.)
Guess who ELSE has been into the booze?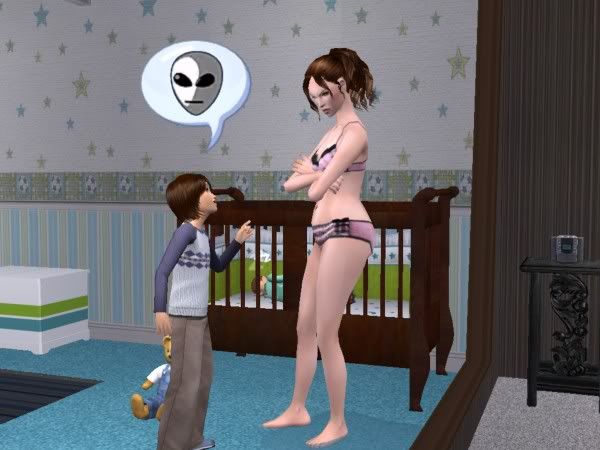 Xavier:
There's an alien sleeping in your bed.
Sarah:
That's your brother. Go away.
Xavier:
Did he come here in a spaceship?!
Sarah:
I said go away!
She loves walking around in her underwear for some odd reason. *headdesk*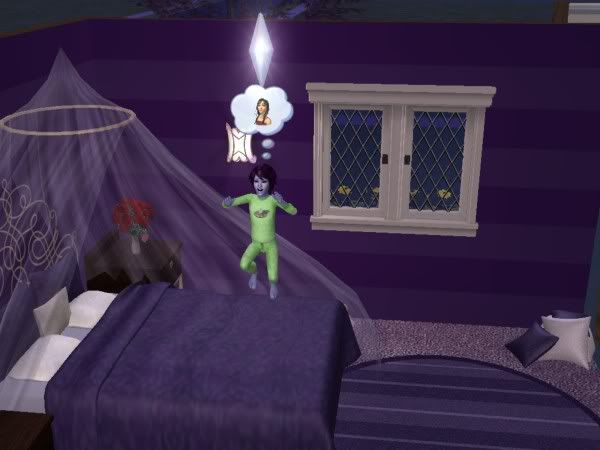 Ryo:
MIAAAAA!
Mia:
I'll show you mine if you show me yours. :D
Ryo:
DO NOT WANT! D:
Another brother turned gay by Mia's perviness.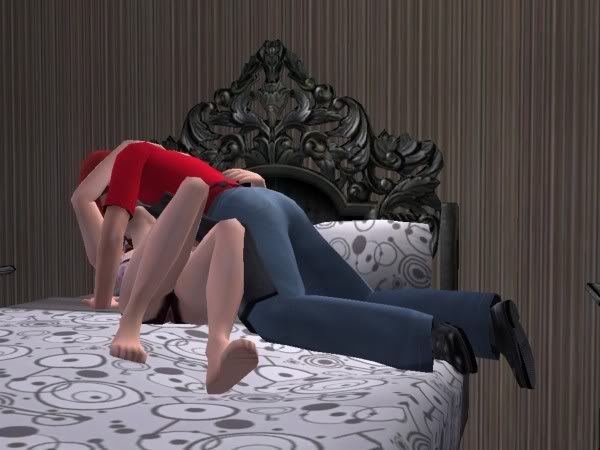 I'm not even sure why I took this shot, but it's…interesting.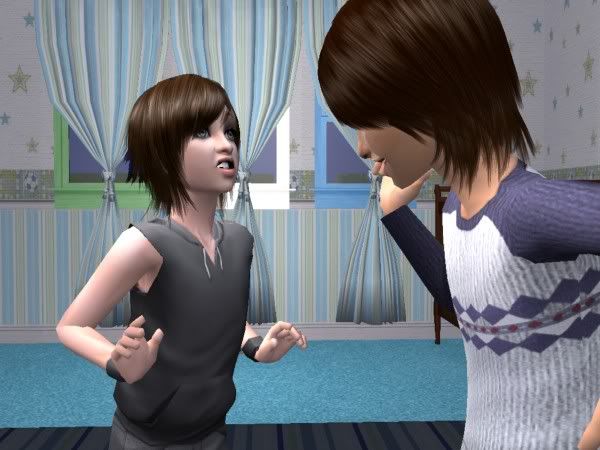 Xavier:
Playtiem!
Alexander:
DO NOT WANT. D:
Sorry Xavier, this one's NOT gay, for once.
Family study tiem!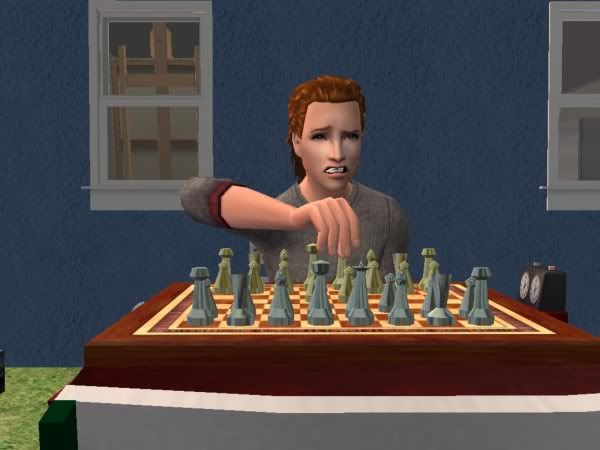 Daniel:
Oh yeah, playing chess by myself, I'm cool.
Sarah:
I'M HAPPY AND I DON'T KNOW WHY!
Drugs?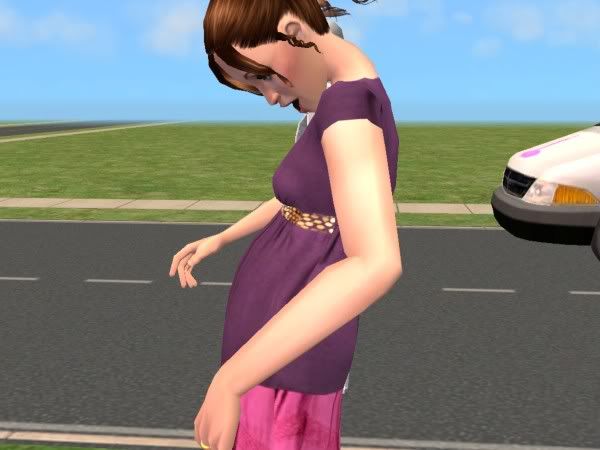 Oh, fuck.
I'm going to move you two to separate rooms if you keep this up.
Alexander:
OMG I GOT AN A+ YAY
So my favourite.
The heir candidates, a study.
Xavier. Brown hair, dad's eyes, tan skin. Twin brother of Mia. Eldest. Gay.
Alexander. Brown hair, dad's eyes, light skin. Gothy. Complete stoner. Born after Xavier and Mia. So far straight. Also Jessi's favourite.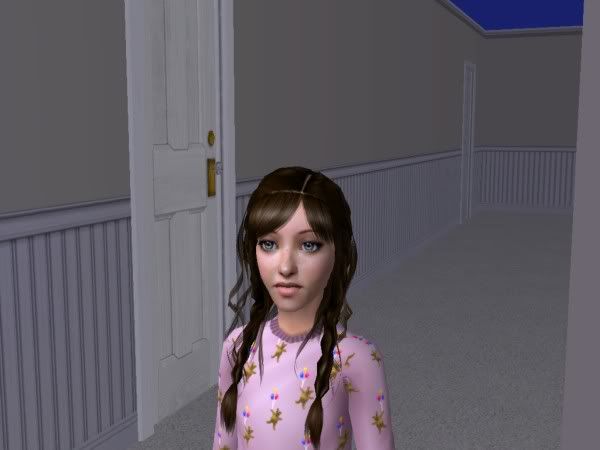 Mia. Brown hair, dad's eyes, light (?) skin. Twin sister of Xavier. Pervert. Geek. Second Eldest. Really pretty. Looks a lot like her mother. So far straight.
The cat's go off to try to make kittens.
This is fun.
But unsuccessful.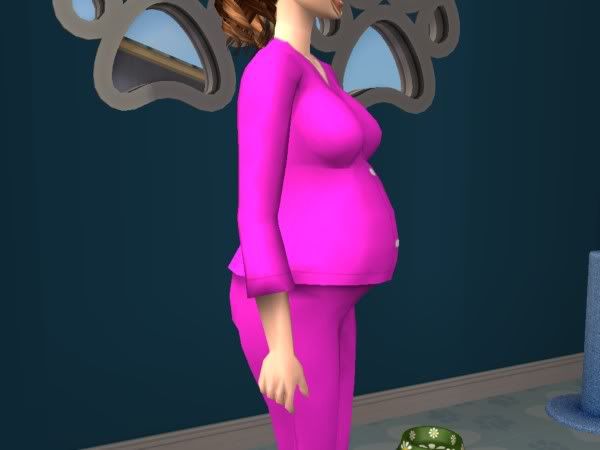 Sarah is REALLY PREGNANT. (Please no more twins please no more twins please no more twins)
HE HAS FLAIR! (If you don't get it, sucks for you)
So, someone mentioned the interesting way that the children have parties (ie, don't.). I decided to remedy this in the Mega Birthday!
Yes, SIX CAKES.
It's time!
Timothy and Jacob are kids, the rest are teens.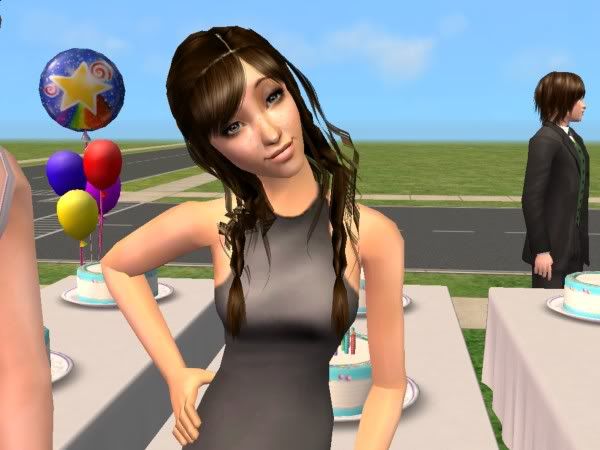 Mia:
I AM SO AWESOME.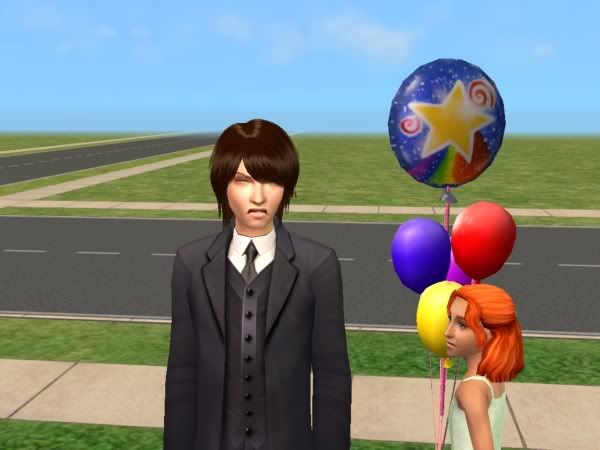 Xavier:
DIAF.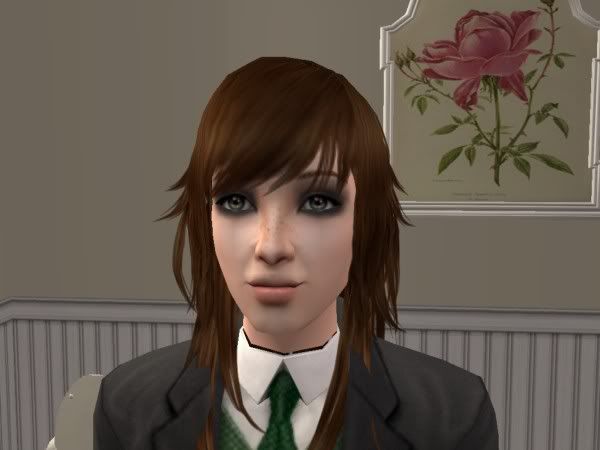 Alexander:
Do I hear squeeing from the sim goddess?
Ryo:
Hey guys!
END UPDATE
Ryo:
HEY GUYS~ IT'S HEIR TIEM!
Alexander:
Tell you what! You vote for me, you'll get to see more of this: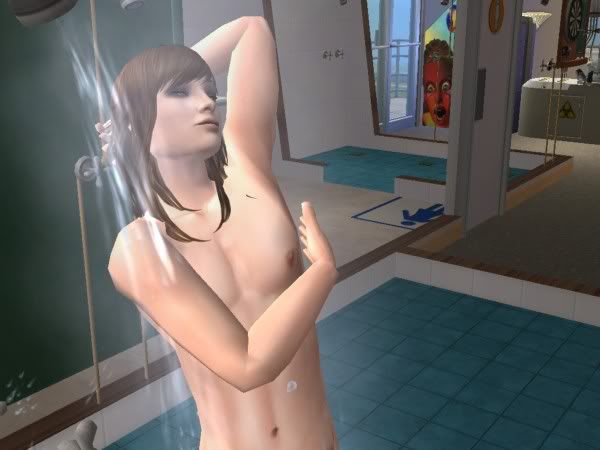 *drool*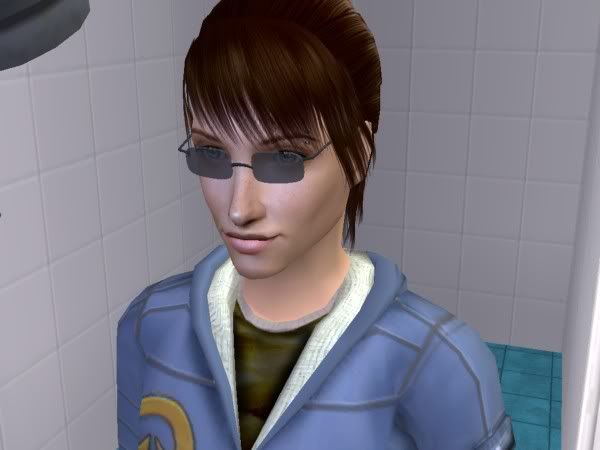 Xavier:
Vote for me and…there will have to be Mpreg? What? What kind of script is that?! I don't want babies! I'm a fucking romance sim! A GAY one! WTF! ARGH THE RA-
Cut.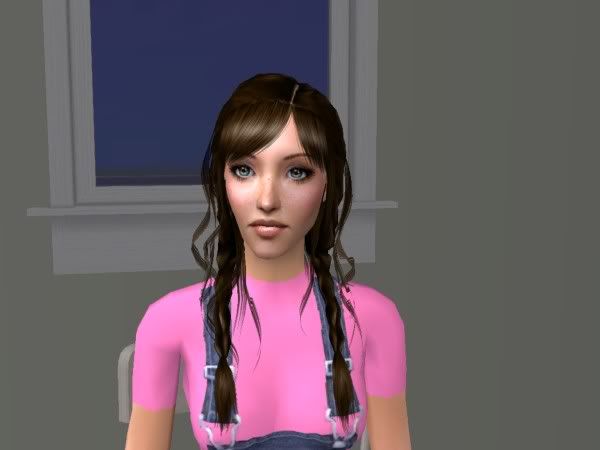 Mia:
Dude. Who stole my booze?
Now, because so many of the kids never got the chance, I'm also giving you the opportunity to bring someone else back home with the heir!
Either Ryo (who is awesome).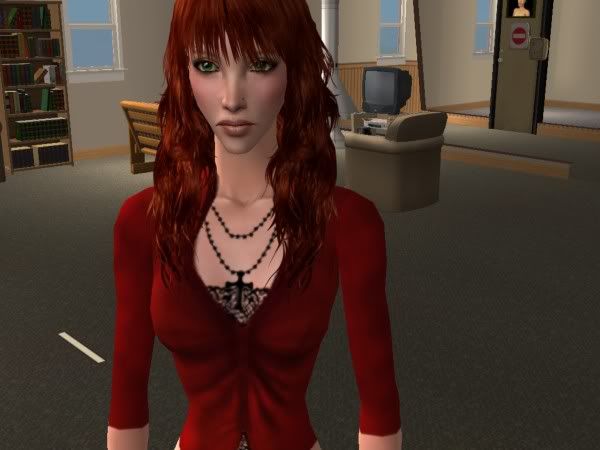 Or Elena (who is even more awesome)
And her BF can come too (like his makeover? :o)
Who should be heir? (meaning they move back into the house, get followed, have babies, etc)
Who should move back in with them?
Elena (and her boyfriend)
Ryo (with Elena's boyfriend - they flirt a lot)
Next Up:
NEXT HEIR YAY!
Also, a note: I have a big huge list of names to use, but, any requested names (either in the comments or the poll) get bolded, so I use them first! Request some names!